Brain Out Level 119 What's the answer?

This page has all the answers you need to solve Brain Out riddles. Combine your brain test and discovery for a brain challenge like no other! If you are fan of tricky games, riddles, brain teasers, brain games or any other quiz game, Brain Out is one of the most choicer for you to exercise you brain. Using our website you will be able to quickly solve and complete Brain Out game. We are here to help and published all Brain Out Level 119: What's the answer?, so you can quickly step over difficult level and continue walkthrough.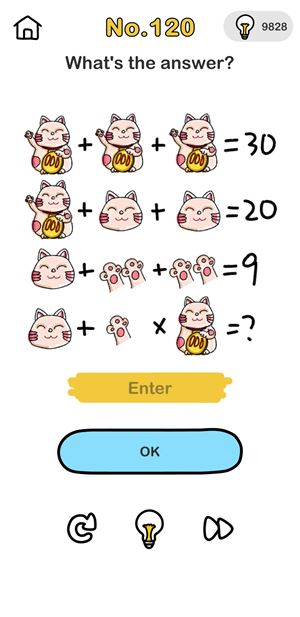 Solution to this level is:
The last cat just shows one paw to you,it's 9. So 5+1x9=14
Next level answers:
Go back
Loading comments...please wait...
About Brain Out

Brain Out is an addictive free tricky puzzle game with a series of tricky brain teasers and different riddles testing challenge your mind.
It evaluates your logical think ability, reflexes, accuracy, memory and creativity. Do not answer the quests ❌in the ordinary way if you don't want to be tricked.
The solution subverts normal thinking is the most interesting thing in this trivia game.